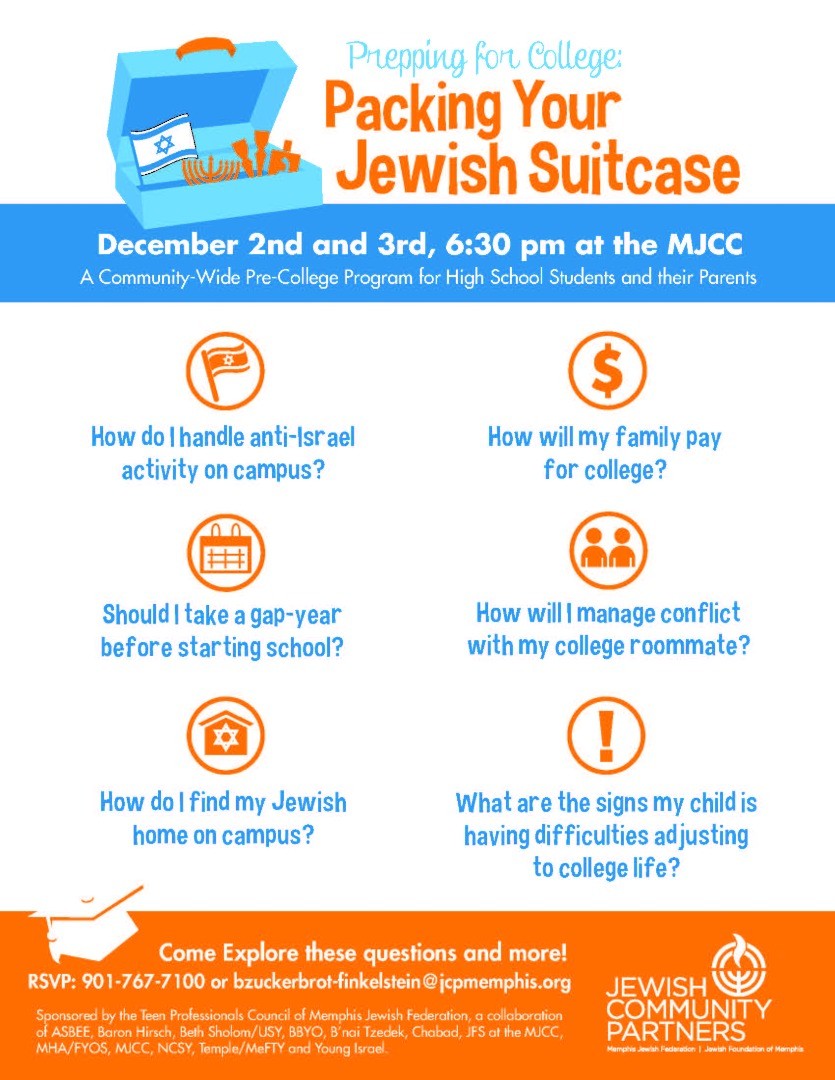 How do I handle anti-Israel activity on campus? How will my family pay for college? Should I take a gap-year before starting school? How will I manage conflict with my college roommate? How do I find my Jewish home on campus? What are the signs my child is having difficulties adjusting to college life?
Come explore these questions and more at 
Prepping for College: Packing your Jewish Suitcase
, a unique pre-college program designed specifically for Jewish high school students and their parents. The program, a project of the Jewish Teen Professionals Council, will span two evenings, 
December 2 and 3, 2015, 6:30-8:30 P.M. at the MJCC
.
Information sessions will address issues specific to Jewish students, including Israel Advocacy on campus, finding a Jewish home on campus, and Gap Year programs in Israel.  In addition, local professionals will share expertise on issues of finance, the application process, time management, and the pressures of college life.
The program will include joint sessions for teens and their parents together, as well as teen-only and parent-only sessions to address each group's unique concerns. Attendees will have the opportunity to hear from experienced professionals, including social workers, college counselors, and university administrators.
Before the information sessions begin, families will have the opportunity to browse a College Marketplace in the MJCC lobby. All families who sign in for the program will receive $2 off any order from Holy Cow.
Experts who will be speaking at the event include: 
Rabbi Feivel Strauss, Senior Educator at Temple Israel
Attorney Jason Solomon, Certified Estate Planning Specialist with Harkavy Shainberg Kaplan and Dunstan PLC
Gayle Resneck, LMSW, Senior Services Manager for Jewish Family Service at the MJCC
J. Carey Thompson, M.Ed., Vice President for Enrollment and Communications and Dean of Admission at Rhodes College
Dr. Bradley Karasik, Chief Operating Officer at Margolin Hebrew Academy and former Director of Recruitment, Admissions, and Enrollment Management at Touro School of Social Work 
Justin Waldrip, Student Leadership Council President of Hillel of Memphis
Rivky Klein, Co-Director of Chabad of Tennessee
Abby Durham, staff member of Memphis BBYO
Judy Bookman, MA, LCSW, Assistant Director of Concern EAP
Mimi Grossman, former Director of College Counseling at St. Mary's Episcopal School
Heather Viniar, Southern Region High School Program Coordinator of StandWithUs
Mary Anne Caldwell, Instructor, Sociology Department at University of Memphis
Janet Watson, LCSW, Clinical Director of Jewish Family Service at the MJCC